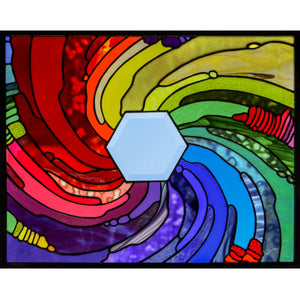 Supervised Studio Time Thursday April 27th and ongoing 7-9PM EST (Limited Spots)
$5000

$50.00
Tax included.
---
---
SUPERVISED STUDIO TIME:
(Available to experienced artists or those who have completed the 6-week Beginner Course)
Ready to learn new techniques, intricate tips and tricks as well as tool reviews to make you more confident about attempting any kind of project? Have an idea for a design but have no idea if it would work in glass? Sign up for a supervised studio time slot. I want to inspire glass artists to attempt any kind of project, 2D or 3D, that they're thinking about and most importantly, experiment and think outside the box! If you're unsure of your abilities, supervised studio time can give you all the confidence you need to dream and attempt anything that's on your mind and not to worry about the details because I'll be here to help if you need me!
This deposit will be for the remaining 1 week of April. The class is $25/2 hour weekly class, purchased in blocks of one month at the beginning of every month for as long as you'd like to attend.
Here are some examples of the more intricate skills I can help you learn or master:
Lead
Everything you ever wanted to know about how to make a leaded, stained glass panel.
Advanced Soldering
If you have the basics down, learn about building up non-framed edges with solder, when its appropriate to do so, and tinning filigrees or vase caps, or other brass embellishments as well as some simple decorative soldering.
Embellishments
I will teach you how you can incorporate agate slices, beads, sea glass, tinned brass filigrees, , and just about anything else you can think of to your glass work.
Glass Drilling
You will learn hole placement in glass to ensure structural stability and what tools are available for this, and how to drill them.
Glass Repair – Copper Foil
Focus on removing a broken piece of glass from a copper foil panel or lamp, and how to replace it.
Make a Box!
The fundamentals of making a jewelry box and what you can add for embellishments including box feet.
Lamp-making (Non-Tiffany)
This class focuses on how to build a panel lamp, a 3-sided lamp, a 4-sided lamp, and the do's and don't s of constructing them.
Copper Foil Overlay
From tools, to where to get them, techniques, tips and tricks, I can help you make this process a more enjoyable and less stressful experience. You will be shown techniques such as applying and burnishing a copper foil sheet to glass, how to cut, reinforce and solder your foil when it is laying on the surface of the glass.
Suncatcher Edging
I can help you learn how to make your suncatchers last a lifetime. You'll learn how to build up edges with solder when appropriate, how to apply copper tinned wire or ball chain to add to the structural integrity of a piece and where to place your hangers and what type to use.
Spots are limited for the time being so don't hesitate. Unfortunately, I will not be offering online classes for the foreseeable future. Thank you for your interest in classes with Renee from Fulcrum Stained Glass! I can't wait to teach you!
CONTACT ME:
Please contact me through Instagram DM @fulcrumstainedglass or email info@fulcrumstainedglass.com for any questions or concerns!
My new location is 2699 Post Road Warwick, RI 02886
---